The wildbunch

Some letters left behind by bandits fleeing from the Winnemucca bank robbery and other recently discovered materials show that an obscure Dixon, Wyoming bartender was a vital link in Wild Bunch operations. His name was Mike Dunbar.
Dunbar had taken a one-year lease on an old bar in Dixon once owned by Phil S. Lerler. He painted, varnished and redecorated the bar in much the same manner as he was refurbishing his life. A newspaper report of the grand opening of the new bar in Dixon said "the liquor sold over this bar will transform very ordinary men into poets, orators, artists, statesmen and millionaires." Was he being facetious?
Some say the Wild Bunch gang got its name from hurrahing towns like Dixon and its neighbor in south central Wyoming, Baggs. People would say there goes that "Wild Bunch from Powder Springs." Powder Springs was the outlaw hideout west of the towns. And that put Mike Dunbar right in the middle of the action.
According to census records, William "Mike" Dunbar was born in Illinois in December, 1852. His family, including his brother, Jefferson, migrated west, through Kansas into Wyoming, where the boys apparently began to test the limits of the law.
On April 12,1892, Mike and Jeff were in the Carter & Brenham Saloon in Casper, Wyoming, where Mike was running a poker game. Jeff and a black man named Lewis Adams got into an argument which escalated with threats and abuse until Jeff drew his revolver. Adams grabbed a nearby billiards cue stick and advanced menacingly on Jeff, who fired three or four warning shots before killing Adams.
Jeff reholstered his gun and calmly walked out the rear of the saloon with Mike. Sheriff Rice and his deputy found them at a nearby stable and Jeff said, "Iím the one you want." At a preliminary hearing, Jeff was held over without bail and taken to Douglas, Wyoming, to stand trial on a charge of murder. He pleaded self-defense and was acquitted.
Mike and Jeff relocated to Dixon, Wyoming. On July 28, 1893, Mike leased the bar from Lefler, where in addition to liquor he sold supplies and ran a billiards table. Mike appeared to have settled down. He married Louisa, an immigrant from Norway, and they soon had a daughter, Ruth, born in August, 1893.
However, on December 31, Mike witnessed a shooting involving a man named Frank Howard. It occurred near Mike's saloon. He was called to testify at the trial, which began on January 1, 1894. Justice of the Peace and Acting Coroner D.C. Jones presided. Jones was known to fear and hate Mike's brother, Jeff, and therefore thought little of Mike's testimony.
Jeff, meanwhile, had gone to Craig, Colorado, where he remained for the duration of the trial. As much as Mike seemed to want to go straight, Jeff apparently drew him to outlaw life. Suspected as a rustler, thief and killer, his acquaintances were of questionable character. Jeff became a full-time outlaw on August 14, 1894, when he and George Huse robbed William Nichols of $200 on the Strip near Fort Duchesne, Utah. A warrant was issued in Vernal and Sheriff George Searle and a posse began searching for the culprits. Within a week Huse was captured and jailed but Jeff had eluded the posse. Sheriff heard that Jeff was hiding out in Dixon and notified the sheriff in Rawlins, Wyoming. However, there is no record of Jeff's arrest and things quieted down for the brothers for awhile.
A news item in the Craig Courier next mentioned that Jeff arrived in Baggs on August 15, 1896, from the Four Mile, a small gold-mining camp and a nest of rustlers and outlaws. Two months later, the paper reported that Mike Dunbar of Dixon had accidentally shot himself near the knee on the right leg while "recklessly handling" his gun. Both Mike and Jeff were in the Baggs and Dixon area at the same time that Harry Longabaugh, alias The Sundance Kid, was working for the nearby Al Reader Ranch. The brothers and Sundance became trusting friends and stayed in touch with each other when Sundance left the area.
On July 24, 1898,Jeff headed into Jim Davis' saloon in Dixon. An argument ensued and Jeff drew his gun and shot Davis, wounding him. Davis reached for his gun and fired four rounds, killing Jeff. According to Dunbar's front-page obituary, Jeff had been the leader of the Robbers Roost Gang, a band of 400 or so outlaws, which included Butch Cassidy, Isom Dart, and Bert Charters, among others. The reporter speculated that "Butch Cassidy will be Dunbar's successor as a leader, but it is generally believed that there is not a single man in all the league possessed of sufficient ability to hold the gang in line."
No sooner had Jeff been buried up on Blue Mountain than Mike's wife gave birth to a son, Charles. Mike no longer ran the saloon in Dixon but moved his growing family into Baggs. His friendship with Sundance and members of his brother's old gang continued, however. This resulted in Mike coming under surveillance of the Pinkerton Detective Agency.The Pinkertons dossier on Mike used the code name "Coyote" when referring to him in correspondence with their field agents.
The Pinkertons also were watching numerous other residents in the Snake River Valley, an area they considered a hotbed of banditry. Charles F. Tucker, a rancher in Dixon; Jack Ryan, Bert Charters, Sam Green, Jim Hanson, Chippy Reid, and Jim Ferguson, all of Rawlins; and Robert McIntosh, the postmaster at Slater, Colorado. All were under surveillance by Charles Ayers and Bob Meldrum both of Dixon.
Ayers, a rancher and stock association inspector from Dixon, was the first person to identify and describe the Sundance Kid to the Pinkertons. That description became well known on wanted posters and is found in the Wild Bunch files today. Meldrum was another story, however.
According to census records, Robert D. Meldrum was born in 1866 in England. The census shows him working as farm laborer but Pinkerton records identify him as a deputy sheriff in Dixon, with a code name "Cigar." Researcher Dan Davidson says that Meldrums' position with the Pinkerton's with similar to that of Tom Horn. Meldrum often walked a fine line between gun-for-hire and law officer.
Meldrum eventually crossed that line when he killed Chick Bowen in cold blood on January 19, 1912. Sentenced to five to seven years in the Wyoming State Penitentiary, Meldrum had plenty of time for his hobby, drawing. Now stored in the Wyoming State Archives and Museum, one of the sketches he made in 1914 was the saloon gunfight between Jim Davis and Jeff Dunbar.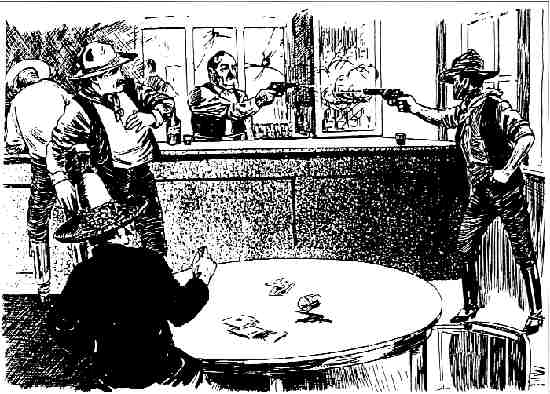 This pen and ink drawing done by Bob Meldrum in 1914 depicts James W. Davis, bartender, shooting Jeff Dunbar. Dunbar was killed. Meldrum never saw the actual shooting, but he was familiar with the people and the saloon where it took place in Dixon. Courtesy of the Wyoming State Museum.


By August 29, 1900, plans had been finalized for the Wild Bunch holdup of the Union Pacific train at Tipton, Wyoming. Many of Jeff Dunbar's old gang were being watched by Ayers and Meldrum and soon after were questioned as to their knowledge of the crime. Nearly all of those questioned had known some aspect of the robbery prior to the event. In fact, the Pinkerton report on Tipton mentions that four of these men should have been charged as accessories before and after the fact. Mike also knew about the robbery in advance because he was the contact person for correspondence between Sundance and the Wild Bunch lawyer Douglas A. Preston. Mike knew that Sundance would not be at Tipton but instead was headed for Nevada and the bank robbery in Winnemucca. He was helping Preston and Sundance make arrangements to dispose of some blackened gold and currency along the return trip from Nevada. On September 1, 1900, Mike had his wife, Louisa, addressed a letter to C.E. Rowe in Golconda, Nevada. It read, "Dear Friend: Yours at hand this evening. We are glad to know you are getting along well. In regard to sale enclosed letters will explain everything. I am so glad that everything is favorable. We have left Baggs so write us at Encampment, Wyoming. Hoping to hear from you soon I am as ever, Your Friend, Mike." The letters which Mike had enclosed were from Preston and indicated a deal could be made to sell or trade "the black stuff." All arrangements had gone through Mike Dunbar.
Soon afterward, Mike dropped from sight. Through census records, we know that he and his wife remained in Wyoming at least through 1902 when their second son, Norman, was born. One report claims that Dunbar moved to Montana but that has not been verified. Maybe Mike just tired of being on the fringes of the lawless element and finally found a way to go straight.
While Mike and Jeff Dunbar certainly knew many of the Wild Bunch members and associates, they also made a mark of their own on the Snake River Valley.


---
Bill Doolin & His Wild Bunch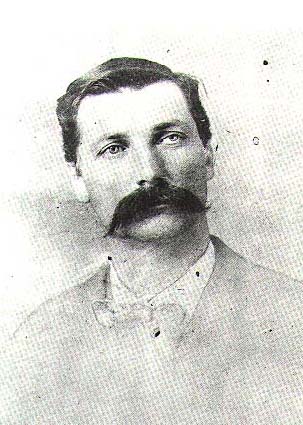 William (Bill) Doolin was born in 1858 in Johnson County, Arkansas. In 1881, at the age of 23, he drifted west working at odd jobs and eventually ended up in Caldwell, KS were he met Oscar D. Halsall of Texas. Halsall hired Doolin to work for him on his ranch on the Cimarron River in Oklahoma. Doolin soon became a top hand for Halsall.

It was during this time of working as a cowboy that he would meet most of the members of his future Wild Bunch. Working on the ranches in Oklahoma, Bill Doolin would meet George "Bitter Creek" Newcomb, Charlie Pierce, Bill Power, Dick Broadwell, Bill "Tulsa Jack" Blake, and Emmett Dalton.

Doolin's first brush with the law came in the summer of 1891, while working on the Bar X Bar Ranch. Several of the cowboys decided to celebrate the 4th of July holiday by riding over to Coffeyville, KS and throwing a party. There was a keg of beer there and the law showed up. Kansas was a dry state. When they tried to confiscate the beer there was a shoot-out, and two officers were wounded. From that day on Bill Doolin was on the dodge.

By September of 1891, Bill Doolin was riding with the Dalton Brothers. He participated in the train robberies at Leliaetta, I.T., Red Rock, OT, and Adair, I.T.. Several reasons have been given as to why Bill Doolin did not join the Dalton Gang on their fatal raid on two banks in KS on Oct. 5, 1892. It has even been rumored that he was the mysterious 6th rider that day. But whether he was the 6th man, or Bob Dalton was jealous of his growing popularity in the gang, or that Bob considered him too much of a "wildcat" and too uncontrollable, one thing is for sure he was a lucky man that day.

With the death of the Daltons in Coffeyville, there were still three members of the Dalton gang at large and they didn't waste time resuming their work. On Oct.12, 1892, 7 days after the raid, John J. Kloehr of Coffeyville, the citizen who shot 3 of the Daltons, received a letter stating that there was 3 members of the gang left alive and that they were coming to Coffeyville to exact their revenge. Needless to say this put the citizens of Coffeyville in a near state of panic. In the meantime, that same night the train at Caney, KS, eighteen miles west of Coffeyville was robbed by 4 masked men. While never proved, Bill Doolin is credited with both events.

Now on their own, Doolin, Newcomb, and Pierce would have no problem in finding new recruits for their gang. The first to join was Oliver "Ol" Yantis. On Nov. 1, 1892 he would join Doolin and Newcomb and rob the Ford County Bank at Spearville, KS. After the robbery the trio would split up to throw off any pursuing posse. However, marshals were able to track Yantis to his sister's farm near Orlando, OT and on Nov. 30 they surprised him at daybreak and killed him in a brief gun battle.

By the end of 1892, 4 more members had joined the gang, Bill Blake, alias Tulsa Jack, Dan Clifton, alias Dynamite Dick, George "Red Buck" Waightman, and William "Bill" Dalton, brother of the infamous Dalton Boys.

By the spring of 1893 the gang was riding high. Their reputation was growing and their deeds were becoming more bolder. And on March 14, 1893 Bill Doolin and Edith Ellsworth of Ingalls, OT are married in Kingfisher OT Whether Edith knew Bill was an outlaw at the time is not known, but throughout his career as an outlaw she stuck by him, all the time keeping the marriage a secret and meeting him secret

For a "wedding present" the gang robbed the train near Cimarron, KS on June 11, 1893. While being pursued by a posse, Bill Doolin was shot and wounded in the left foot. He would recover from his wound, but it would leave him with a limp and plague him the rest of his life, and would be the contributing factor in his capture years later.

By now, Roy Daugherty (a.k.a. Arkansas Tom Jones) had joined the gang. Unfortunately for him, he had joined the gang just in time for a surprise the marshals had been cooking up for the Wild Bunch. US Deputy Marshals had learned that the Doolin-Dalton gang had been using the town of Ingalls, OT as a hideout the summer of 1893 between raids. On Sept. 1, 1893, two wagons loaded with 13 marshals entered the town of Ingalls. In the fierce battle that ensued, 3 deputy marshals were killed, 2 innocent bystanders were killed and 1 was wounded, 2 of the bandits were wounded, and Arkansas Tom was captured. He was sentenced to 50 years in prison.

In early 1894 the gang was hard at work. Two more members, William F. Raidler (a.k.a. Little Bill) and Richard West (a.k.a. Little Dick) had joined the Wild Bunch. They robbed the Farmers and Citizens Bank in Pawnee, OT on Jan.23, 1894. On March 13,1894, two men rob the railroad station at Woodwind, OT it was believed to be Bill Doolin and Bill Dalton. The on May 10, 1894, 7 members of Wild Bunch rob the bank in Southwest City, MO. In shoot-out with townsfolk 1of the bandit was wounded, 1 citizen was killed, and 3 were wounded.

Bill Dalton was not present at the Southwest City robbery, he had left the Wild Bunch and formed his own gang that spring. On May 23, 1894 Jim Wallace, Big Asa Knight, Jim Knight, and George Bennett joined up with Bill Dalton to rob the First National Bank in Longview, TX. Bennett is killed and 1 citizen was killed and 3 were wounded in the attempted getaway. The law trailed Bill Dalton to his hideout near Ardmore, I.T. and surprise and kill him on the morning of June 8, 1894.

Early in 1895 the deputy marshals suspected the gang was hiding out in the Ingalls area. March 3, 1895, Deputies surrounded the cave at the Dunn farm and ordered the bandits to come out. When none appeared, they used dynamite to coax them out. Although the raid did net the law several men wanted for various crimes, none of them were of the Wild Bunch. They had left the day before.

On April 3, 1895 the Wild Bunch would pull it's last job as a gang. They boarded the train at Dover, OT and proceeded to rob it and the passengers. After the robbery the gang would make it way west at a leisure pace unaware that a posse had formed and fast moving in on them. At 2:00 p.m. the posse would catch up with the gang as they were camped near Ames, OT In the gun battle with the deputies Tulsa Jack was killed. The rest of the gang was able to getaway, but they would split up and never re-unite as a gang.

With high rewards on their heads, the gang would scatter. The marshals were now using a new tactic in its efforts to rid the territory of the gang. They had used the reward money and outstanding warrants for cattle rustling to induce the Dunns to give them information as to the movements of the gang. The Dunns had a farm near Ingalls, and were never part of the gang. However, they did give the gang a place to hide out and information about the deputies, as well as fence some of the stolen goods the gang had. On May 1, 1895, while hiding out at the Dunn farm, Bitter Creek Newcomb and Charlie Pierce were shot while they laid asleep in their beds, by Bill, John, and Dal Dunn. They took the bodies to Guthrie and turned them over to the marshal for the $5,000 reward money.

With his buddies dying off one by one, Bill Doolin saw the handwriting on the wall. He had his lawyers get in touch with US Deputy Marshall Nix 3 time that summer and offered to turn himself in if Marshal Nix would promise him a light sentence on robbery. Marshal Nix refuse. The only thing left for Doolin was to leave the territory. He made his way to New Mexico and joined up with Little Dick West. Together they hid out there the rest of the summer of 1895.

On Sept. 6,1895, the law was able to bring another member of the gang to justice. Bill Raidler is seriously wounded and captured by Marshal Bill Tilghman near Pawhuska, OT He stood trail for his part in the Dover robbery and was found guilty, sentenced to 10 years, he was paroled in 1903 and returned to OK

Tiring of New Mexico, Bill would return to Oklahoma to gather his family. By this time Bill and Edith had a son. Together with his family he set out to make a new life for himself. They lived the last part of 1895 near Burden, KS. But the law wasn't finished with Bill Doolin. Deputy Marshal Tilghman learned of Edith Doolin's disappearance from the Ingalls area, and was able to trail her to Burden. However, he was to late, Edith had returned to Oklahoma and a man named "Tom Wilson" had gone to Eureka Springs, AK to seek the healing treatment of the hot spas there to ease the pain of his rheumatism.

Tilghman suspected it was Doolin and proceeded to Eureka Springs were he did indeed find Doolin and was able to get the drop on him and capture him. He returned him to Guthrie and for the first time in his life Bill Doolin was behind bars.

With Bill Doolin behind bars the rest of the gang was being rounded up quick. Red Buck Waightman was killed in gun battle with deputy marshals near Arapaho, OT on March 4, 1896. Dynamite Dick Clifton is arrested on a whiskey charge in Texas. Deputy Marshal Frank Canton brought him back to Oklahoma to face a murder charge, delivering him to the Guthrie jail on June 22. Thanks to the law Bill Doolin and Dynamite Dick were back together.

Then on July 5, 1896, Bill Doolin, Dynamite Dick, and 12 other prisoners escaped from the Guthrie jail. Outside the jail Bill was able to make it back to Lawson, OT were Edith was staying with her folks. Once again they made plans to leave the territory and make a new start somewhere else for their family. Once again the law was chasing him. On Aug. 24, 1896 Bill Doolin was ambushed and killed by Deputy Marshal Heck Thomas's posse.

What happen to the rest of the gang? Dynamite Dick Clifton and Little Dick West were all that was left of the Wild Bunch. They would go on and join up with the Jennings Gang but later leave that gang and eventually be track down and killed by the law. Dynamite Dick Clifton was killed by deputies on Nov. 7 near Chectoah. Little Dick West was killed on April 8, 1898 by Deputy Marshal Heck Thomas's posse.



Members of the Wild Bunch



Bill Doolin
George (Bitter Creek) Newcomb
Charlie Pierce
Oliver (Ol) Yantis
William (Bill) Dalton
Bill (Tulsa Jack) Blake
Charles (Dynamite Dick) Clifton
George (Red Buck) Waightman
Roy Daugherty (aka Arkansas Tom Jones)
William F. Raidler (aka Little Bill)
Richard West (aka Little Dick)





---


Back