Daniel boone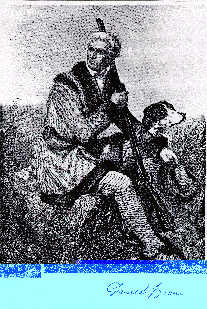 More than any other man, Daniel Boone was responsible for the exploration and settlement of Kentucky. His grandfather came from England to America in 1717. His father was a weaver and blacksmith, and he raised livestock in the country near Reading, Pennsylvania. Daniel was born there on November 2, 1734.
If Daniel Boone was destined to become a man of the wild, an explorer of unmapped spaces, his boyhood was the perfect preparation. He came to know the friendly Indians in the forests, and early he was marking the habits of wild things and bringing them down with a crude whittled spear. When he was twelve his father gave him a rifle, and his career as a huntsman began.
When he was fifteen, the family moved to the Yadkin Valley in North Carolina, a trek that took over a year. At nineteen or twenty he left his family home with a military expedition in the French and Indian War. There he met John Finley, a hunter who had seen some of the western wilds, who told him stories that set him dreaming. But Boone was not quite ready to pursue the explorer's life. Back home on his father's farm he began courting a neighbor's daughter, Rebecca Bryan, and soon they were married.
In 1767 Boone traveled into the edge of Kentucky and camped for the winter at Salt Spring near Prestonsburg. But the least explored parts were still farther west, beyond the Cumberlands, and John Finley persuaded him to go on a great adventure.
On May 1, 1769, Boone, Finley, and four other men, started out. They passed Cumberland Gap and on the 7th of June, they set up camp at Station Camp creek. It was nearly two years before Boone returned home, and during that time he explored Kentucky as far west as the Falls of the Ohio, where Louisville is now. There was another visit to Kentucky in 1773, and in 1774 he built a cabin at Harrodsburg. On this trip, Boone followed the Kentucky River to its mouth.
Colonel Richard Henderson of the Transylvania Company hired Boone as his agent, and in March, 1775, Boone came again to the "Great Meadow" with a party of thirty settlers. They began to clear the Wilderness Road and by April they were establishing their settlement at Boonesborough.
Boone left the Bluegrass in 1788 and moved into what is now West Virginia. Ten years later he again heard the call of unknown country luring him, this time to the Missouri region. As his dug-out canoe passed Cincinnati, somebody asked why he was leaving Kentucky. "Too crowded" was his answer. He lived in Missouri the rest of his life, although he twice revisited Kentucky before he died at the age of 85.
He was buried beside his wife in Missouri. A quarter of a century later they were brought back to the Bluegrass and laid to rest in Frankfort's cemetery. There they rest, on a bluff above the river and town, on a "high, far-seeing place" like the ones he always climbed to see the land beyond...a monument to the new country in the wilderness which they had helped to explore and settle.

---

Story by Col. George M. Chinn, Director, Kentucky Historical Society
Note 1: Colonel Daniel Boone spent the winter of 1769-70, in a cave, on the waters of Shawanee, in Mercer county. A tree marked with his name, is yet standing near the head of the cave.
Note 2: In 1775, having been engaged as the agent of a Carolina trading company (as mentioned above) to establish a road by which colonists could reach Kentucky and settle there, he built a stockade and fort on the site of Boonesboro. The first group of settlers crossed the Cumberland Gap to Boonesboro by the road established by Boone, later called the "Wilderness Road". During the American Revolution the community suffered repeated attacks, and in 1778 Boone was taken captive by Indian raiders. The settlement, however, was eventually established as a permanent village.
---
Hollywood-style movies made on the subject:
"Daniel Boone", 1936. George O' Brien. Rating: **1/2
"Daniel Boone, The Trailblazer", 1956, color. Rating: **1/2
---
Courtesy The Harrodsburg Historical Society
220 South Chiles Street, Harrodsburg, Kentucky 40330
Telephone: 606-734-5985
1996 Copyrights and All Rights Reserved.
---
Back